To be successful in the battle against procrastination, you must establish priorities and stick to them. Successful people have learned that they must do the hard jobs whether they're in the mood or not.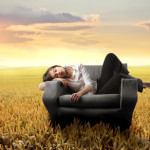 Take this quiz to find out if you need to get more serious about procrastination:
– Do you set priorities?
– Do you get the hard jobs done whether you're in the mood or not?
– Do you spend most of your time working on tasks that you need to finish this week?
– Do you spend time each day working on your long-term goals?
– Do you have a system for measuring your progress?
– Do you have a filing system for each of your long-range projects?
If you answered "no" to any of the above questions, you need to get more serious about procrastination. Ask yourself if you're happy living with the consequences of procrastination. Do you have justifiable reasons for postponing tasks, or have you simply developed the habit of putting things off?
– Establish your priorities. If you don't make a list of your priorities every day, why don't you? And if you do make a list, ask yourself how you rank items in order of importance.
– Force yourself to act. Set deadlines for yourself, even when you don't have to. You need to spend most of your time on this week's projects, but try to spend a little time every day on long-term goals.
– Spend 75% of your time on the things you need to finish this week. Dedicate the rest of your time to projects that need to be finished in the next six months. If you don't have a list of deadlines for the next six months, make one now. What have you done so far on each of these projects? How are you measuring your progress on each one?
– Keep a file for each long-range project. This can be a folder with the deadline date in big letters on the outside. Write down target milestones for each big project. (A milestone is a deadline for finishing one part of a project.)
Wasting time on tasks that don't contribute to the success of our projects is one of the most insidious forms of procrastination. When you decide to rush into something on the spur of the moment, always ask yourself if it's the best way to spend your time. Could I accomplish more with the time I have by doing a different task? Which of these two tasks will make a greater contribution to getting the job done?
Don't put yourself in the position of Shakespeare's King Richard II, who was forced to say: "I wasted time, and now time doth wasted me." Get serious about procrastination today.
Hypnosis is a powerful tool you can utilize to help with procrastination. You can retrain your mind to end procrastination so that you will be motivated to complete your goals.  Then you will achieve the success you desire, while letting go of the stress that accompanies unfinished projects.
Check out our store and purchase our hypnosis recording to Overcoming Procrastination and  watch for our new Overcoming Procrastination Tele-class.
Patricia Eslava Vessey PCC, CHt
Integrity Coaching & Training Systems
www.integritycoachingandtraining.com
(206)459-2898
Copyright©2014 Patricia Eslava Vessey… All Rights Reserved