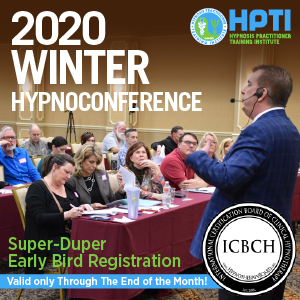 I'm so excited to be offering HypnoKinesthetics training at various conferences in 2020!!!
The first one is in Las Vegas at the HPTI Winter conference, February 17-19. I would love to see you there and of course, in my workshop. Although, the sessions will be recorded if you are unable to attend.
The HPTI Winter Conference is intimate, friendly and a truly wonderful experience. There are many brilliant presenters such as Richard Nongard, Jason Linett, Kelley Woods, Tracy Barett Adams, Karen Hand and so many more. I'm sure you will leave inspired and filled will knowledge.
Here's the link to sign up. Please use Patricia to register.
HPTI WINTER HYPNOSIS CONFERENCE
FEBRUARY 17-19, 2020
Thank you so much to those who purchased my book, Healing With HypnoKinesthetics, and added an Amazon review. I appreciate you so much.
According to Amazon, book reviews are what make or break you as an author and since Amazon is the leader in book retailers, getting reviews on Amazon is even more important.
So if you haven't yet added a review, it would help me so much if you will write a positive review today. To add your review please click here Amazon review HERE.
And I would love to support you in any way I can as well. Thank you so much.
Future HypnoKinesthetics Workshops
February 17-19 HPTI Winter Conference
March 7-9 IHF Retreat, CA
April 23-26, Hypno Expo, Orlando
May 15-17 Association for NLP International Conference, London
July 25-27 Women Hypnotists Retreat, CA
August 13 HK One day, Pre-Conference Workshop & Certification Class HTL 2020, and conference Friday at 2:00 pm, Salon A
Wishing you overflowing success in all you do. Let me know if I can answer questions or help.
Warmest Wishes,
Patricia
Patricia Eslava Vessey, CHt, PCC, Transformational Coach, Mindset Trainer, Hypnotherapist, NLP Master, Fitness Trainer, and Author
(206) 459-2898
Integrity Coaching & Training Systems
www.IntegrityCoachingandTraining.Com
patricia@integritycoachingandtraining.com
pevessey@gmail.com
ABOUT HYPNO-COACHING
Hypno-Coaching is an, alternative personal development modality with a proven track record for success. It uses hypnosis, NLP, coaching, EFT, Mindfulness, and energy psychology to retrain the mind and body to help you accomplish your goals, whatever they may be.
It can be the best choice in helping you gain relief from, chronic medical problems such as pain, IBS, Fibromyalgia, insomnia, anxiety, phobias, smoking, excess weight, addictions and more. And hypno-coaching can help you gain confidence, motivation, focus and improve your mental state and performance. Hypno-Coaching can improve every area of your life.
Call me for your free strategy session and learn how you can live your best life. If you need more help or have questions, give me a call.
©2020 Patricia Eslava Vessey… All Rights Reserved